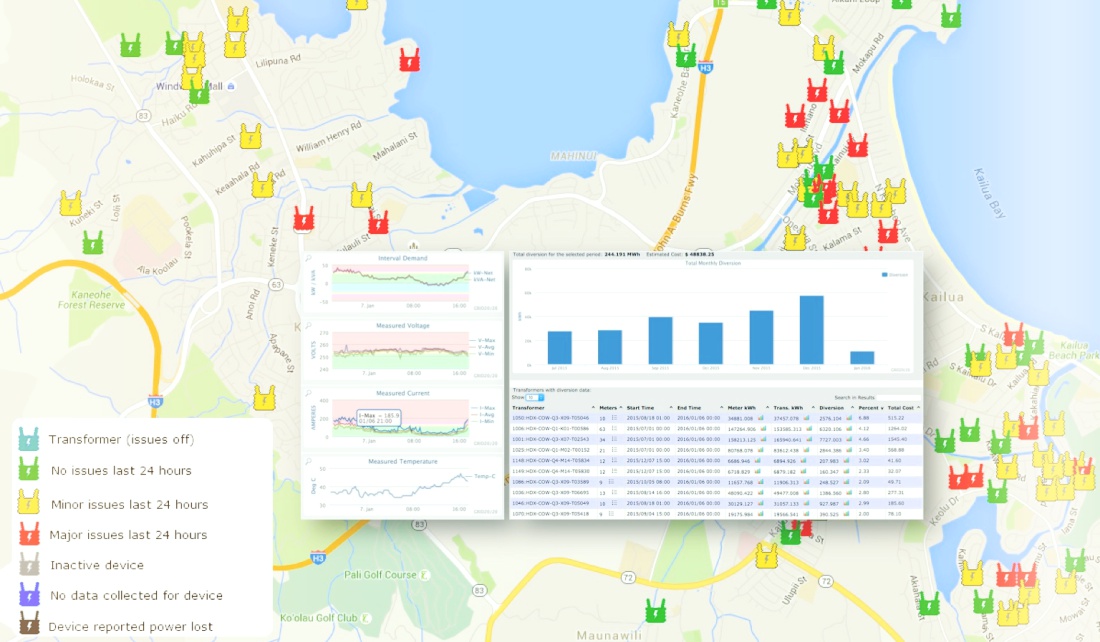 Sensor Provider Pioneers Critical Electric Grid Awareness
Richmond, VA — GRID20/20®, Inc., a leading Distribution Transformer Monitoring (DTM) intra-grid sensor provider, has released its latest electric intra-grid data capture statistics.
GRID20/20 has quietly assembled an emerging big-data supply source for the electric utility industry. The company is continuously extracting unique intra-grid data from within distribution grids throughout the US, Canada, and a series of growing international locations. GRID20/20 recently reported over 7.3 billion unique data elements harvested from within the intra-grid. The grid space which connects all distribution substations to endpoint meters has been coined the "intra-grid". This area represents the most dynamic, most vulnerable, yet least monitored segment of distribution grids around the world.
"We have invested heavily to develop a critical sensor technology to serve the evolving electric utility industry. As we approach our seventh anniversary, it's exciting to see the monumental value we are now beginning to amass from our globally relevant grid monitoring solution," said Alan Snook, President of GRID20/20, Inc.
The company has registered more than 117 million unique intra-grid data sets which results in more than 7 billion granular data elements; and counting. The firm has now provided more than 300,000 automated alert messages to utility operators signaling undesirable intra-grid conditions within the perpetually volatile distribution grid. GRID20/20 continues to firmly establish itself as an emerging, vital resource within the distribution grid management sector.
Following years of work at Hawaiian Electric within the Distributed Energy Resources (DER) niche, and the 2016 completion of its Ontario Ministry of Energy Smart Grid Fund project in Canada, GRID20/20 is establishing itself as a clear leader with a well-respected brand.
The distribution grid is now constantly evolving. Unplanned, and unimagined expectations are routinely being placed upon the existing grid architecture, grid assets, and the utility operators who oversee the foundational service of delivering safe and reliable electricity. At an increasing rate, DER now drives previously unimagined reverse energy flow into grids and commonly creates substantial unanticipated voltage impacts.
Legalized marijuana and electric vehicle charging stations cause potentially serious and/or unsafe unplanned loading impacts. Reliability expectations are ever-increasing among the private, and commercial/industrial sector. Furthermore, aging grid assets throughout the global market are compounding these expanding challenges now being faced by operators.
The introduction of smart meters (AMI) has been unable to ensure accurate, timely intra-grid data for operators. This reality is due primarily to perpetually changing asset mapping (GIS mapping) inaccuracies, and pre-meter power theft taps which are reported to exceed $6 billion per year in the US alone. These factors cause intra-grid sensors to be required as a necessary resource to support all varieties of endpoint metering efforts, including AMI.
As operators are faced with ensuring safe and reliable electricity among a host of grid-edge evolutions, GRID20/20's unique, granular intra-grid data is rapidly increasing in importance. The company's automated alert capability creates a "hands-free" grid management solution, and provides insightful situation-awareness feature for operators. With onboard last gasp technology, the company's patented sensors now also provide rapid outage notification information which accelerates outage restoration for customers.
GRID20/20 has successfully integrated onboard AT&T LTE, Verizon LTE, AT&T GSM, and T-Mobile cellular communications, along with radio frequency (RF) AMI communications from both Itron and Landis + Gyr, with additional RF AMI integrations on the horizon.
Snook commented, "The industry was understandably hopeful that smart meters and algorithms would facilitate comprehensive distribution grid management. Unfortunately, that's clearly not the case, and that is why we have worked diligently to solve the need for versatile intra-grid sensors. We have now amassed 23 patents across 6 countries with more filings in process. GRID20/20 has truly pioneered a globally relevant resource which is required to optimize energy efficiency, and achieve genuine grid modernization."
The company recently published a White Paper concerning the realities associated with emerging smart transformers, thereby illustrating the impracticality of such equipment to sufficiently address present, and rapidly emerging grid issues.
"We can see the eventual transition of smart transformers coming to bear years down the road. But, there is no question that cost-effectiveness, speed to deploy, value to be gained, and the lack of power outages required when installing our leading sensors makes us the clear choice for the foreseeable future. Our fast to install retro-fit devices typically create 'smart transformers' in less than 10 minutes with no interrupted power to customers. Operators then receive an ongoing stream of granular intra-grid data points and timely alert messages," said Snook.
As energy efficiency requirements, and DER advancements simultaneously unfold, GRID20/20 foresees a bi-directional, multi-purpose Clean Tech SuperGridTM emerging as explained by its related White Paper.